hiya! ヾ(@^∇^@)ノ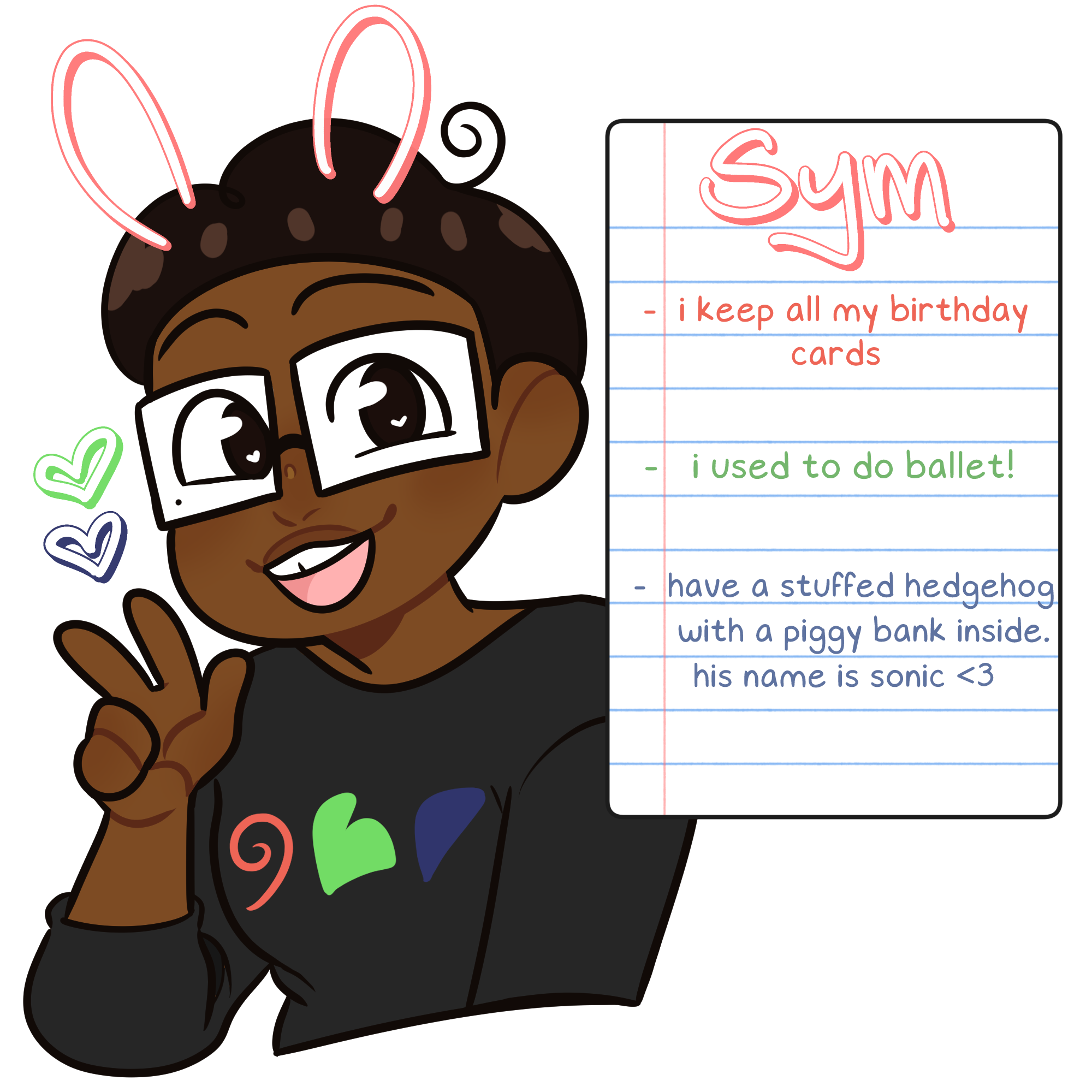 hiya! i'm sym (24, she/they), a hobby cartoonist and oc mayor (=⌒▽⌒=) welcome!
i've always sorta wanted some place to myself, in my own little corner of the internet... but coding for the longest time felt so complicated and way over my head. but i got a burst of energy late 2022 and wanted to dedicate time to it! it'll most likely be in construction for a good amount of time, but until then... enjoy as it updates! i'll try to keep the update log tidy :)

i have two ocs (liam and lucas) that i made when i was ten, and you'll see them probably everywhere on this site asdfghj they're my family and im very protective of them, but i also want everyone everywhere to see them all the time— its a struggle umu
but! they'll usually be around me or mentioned when i talk about things. they're kind of a core part of who i am as a person! so their influence peeks out very often.
i also have too many ocs. you probably saw the oc portal button. it will be active.........
eventually. (ive always wanted to make an oc site since i was in high school, its crazy that now i have the opportunity to do that in a way that's satisfying to me!)

im usually jumping around different projects, which i usually try to update about on the front page! do check on it if you're curious to see what's new. you can also check my links site for other places im at!
why neocities?


i really enjoy re-indulging myself in my old work, whether its reading my writing or comics, watching my videos, listening to my music, or looking at my art! i figured since i also like to make sure all my links are updated, and everything is up to date at all times, always wanting to improve on what's already public facing, making a website seemed like a good project for someone that likes to consistently update things :) i always have ideas for new things i wanna do, so being able to just throw em on a place thats entirely mine seems like a good avenue.
on top of that, social media has become more and more of a mental drag, and i'd like to have a place to myself that doesnt get suppressed by an algorithm, or i have to restrict myself in ways otherwise i could risk my account getting shadowbanned or something. plus! fully customizable. so thats a huuuge boon right there.
i also kind have been spending a bit of time in the past year looking for my 'vibe' and i think being able to have full control over the front end of a website sounds like a good way to do it!

neocities in particular has a certain je ne sais quoi— just kidding
but the community and people ive seen have all been super cool and fun! its heavily inspired me to dig deep and really create a space for myself and understand more what that means for me. i admire everyone's spin on their sites and what they've made! i hope to continue improving and making my site feel more and more like me! 💕